DSUSD's Healthy Salad Bar Pilot Project!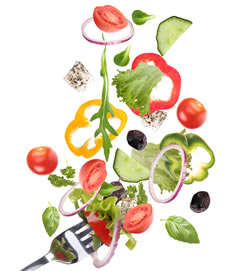 Our Food and Nutrition Services Department is proud to share the success of our healthy salad bars and how they have contributed to getting students to eat more fruits and vegetables every day at school. Students have shown that when offered multiple fruit and vegetable choices, they respond by trying new items, incorporating greater variety into their diets, and increasing their daily consumption of fruits and vegetables.
School salad bars are an effective strategy to increase children's fruit and vegetable consumption, promote healthier eating habits and meet the healthy nutrition standards for school lunch.
There are many benefits of salad bars in schools, and they extend beyond the healthy foods consumed during the breakfast or lunch hour. Increased daily access to a variety of fruits and vegetables provides a personal experience about choices that can shape behavior far beyond the school lunch line. Children learn to make decisions that carry over outside of school, providing a platform for a lifetime of healthy snack and meal choices.
Watch Out .. It is coming to your area soon!
Roosevelt Elementary Start Up Salad Crew! We give the Salad Bar Thumbs Up!
Franklin Elementary has the support of Principal Kelly May-Vollmar, the staff and the students!!
We are also starting up Shaker Salad Bars in the High Schools & Middle Schools!
Make your own Shaker Salad:)
Put in all your Salad Fixins and Shake It Up!!!